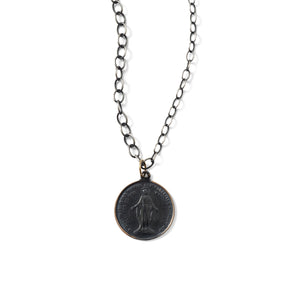 Large and small sterling silver oval links are combined to create an original, one of a kind piece.  It is hand oxidized and polished to add depth and character. Pairs well with any of the coin pendants. Made upon order.
Sterling Silver

20 inches long

Style # N/SS/MOL
Pendant sold separately.
Shipping & Returns
Shipping
Enjoy free ground, domestic shipping with your order of $800.00 or more.
Returns
All orders are final sale.